Machinery dedicated to pastry chefs and restaurateurs: small war machines to simplify production work and to improve the efficiency of everyday work.
Pastry Line – the line of Domino machines designed for the most demanding pastry chefs and restaurateurs: the series of manual sheeters, for laminating almost all types of dough, and the refiner, essential for refining many pastry products. The machines of the Pastry Line are developed to simplify and speed up the production work. Domino offers solid and reliable machines, real partners that help professionals achieve their goals in terms of product quantity and quality. Doing well, as it used to be. It has always been our goal. Building machines that help you and do it like a good craftsman would, with his own hands.
Table-top planetary mixers
The table-top planetary mixers in the Domino line come in 3 models. Compact and with an attractive design, and practical to use, they are suitable for every kind and size of production. This is what makes SM a suitable machine in most bakeries, confectioner's as well as ice cream parlours and restaurants. Depending on the requirements, Domino offers planetary mixers of 7, 12 and 20 litres to fulfil the needs of any production, from the smallest to the largest. Three tools are supplied with every table-top planetary mixer: the whisk, to beat eggs, whip cream and prepare various semi-fluid creams. The hook for leavened dough, such as focaccia bread, brioche and soft dough. Lastly the blade, for short crust pastry, cakes and biscuits. SM 7, SM 12 and SM 20 table-top planetary mixers come with transparent AR protection and for greater and easier control over the dough and machine cleaning and, lastly, solid steel adjustable feet in 12- and 20-litre models.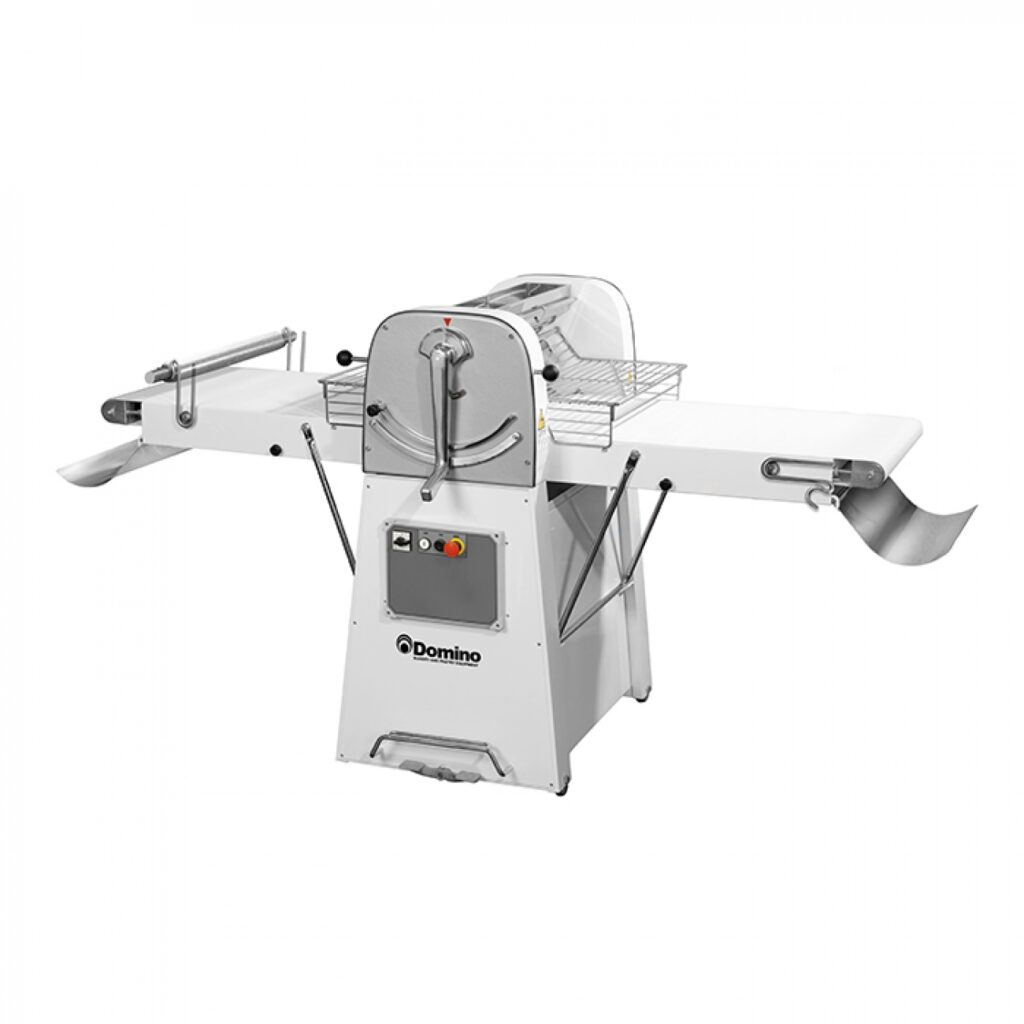 Domino pastry sheeters are very versatile and sturdy, that can be used to roll sweet and savoury products in bakeries as well as restaurants. There are two SFO models: one counter-top version with anticorodal aluminium shoulders and another version with solid aluminium cast shoulders and painted steel base. To sanitise it more quickly this puff pastry machine was designed with easily removable scrapers. All of the pastry sheeters in the SFO line come with flour trays, while only the E models, 600×1200 and 1500 come with removable tray
R2C grinders feature a sturdy painted steel frame. With two ground porphyry cylinders, R2C can reduce many products used in pastry baking and the restaurant industry to a fine powder, such as nuts, sugar, chocolate, nutmeg and pepper. The refining process is carried out by passing the product through two granite cylinders, whose distance can be adjusted by a handwheel, to obtain different particle sizes. Refining is also perfected by the rear cylinder which, in addition to turning, oscillates on its axis. The R2C grinder is available in one or two speed versions for chocolate processing.